Now that the laziest month of summer is over, it's really time to get back on track. The back-to-school sales are happening (so intimidating) and I still have to finish my fiendish summer homework. Nevertheless, I'm really quite excited for school to start. Hopefully, I'm not the only one who feels like that, because it would be terribly awkward.
It's not that I'm looking forward to homework and tests and studying, etc. Once the laziest month of the year is over, I feel a need to get up and DO something. Actually, blogging is definitely something that counts as doing something, so there'll be a rise in posts now *winky wink*. Anyway, I'll stop ranting now and get onto business.
July Book Haul
Fallen by Lauren Kate: I saw this at the bookstore and it just jumped out to me. I'm already halfway through this book, but I haven't quite made up my mind if I like it or not. Stay tuned for a review! Synopsis: "There's something achingly familiar about Daniel Grigori. Mysterious and aloof, he captures Luce Price's attention from the moment she sees him on her first day at the Sword & Cross boarding school in sultry Savannah, Georgia. He's the one bright spot in a place where cell phones are forbidden, the other students are all screw-ups, and security cameras watch every move. Even though Daniel wants nothing to do with Luce–and goes out of his way to make that very clear–she can't let it go. Drawn to him like a moth to a flame, she has to find out what Daniel is so desperate to keep secret . . . even if it kills her." (Amazon.com)
The Red Necklace by Sally Gardner: I was rather confused upon finding this, because the author has another book out that has the same main character. I went online, but couldn't find anything information about a series. Truthfully, I'm not sure what I'm in for with this, but I'm excited just the same. Synopsis: "A mysterious gypsy boy, Yann Margoza, and his guardian, a dwarf, work for the magician Topolain in 1789. On the night of Topolain's death, Yann's life truly begins. That's when he meets Sido, an heiress with a horrible father. An attachment is born that will determine both their paths. Revolution is afoot in France, and Sido is being used as a pawn. Only Yann will dare to rescue her from a fearful villain named Count Kalliovski. It will take all of Yann's newly discovered talent to unravel the mysteries of Sido's past and his own and to fight the devilish count." (Amazon.com)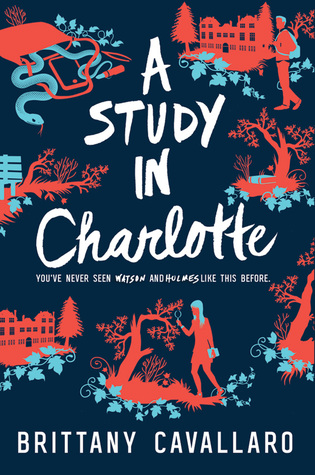 A Study in Charlotte by Brittany Cavallaro: When I heard about this series through the book trailer (you can see it here), I immediately bumped it up to the top of my TBR. I'm just unbelievably excited and know that this will be the start of my new favorite series. I'm so excited!!!!! Synopsis: "Jamie Watson has always been intrigued by Charlotte Holmes; after all, their great-great-great-grandfathers are one of the most infamous pairs in history. But the Holmes family has always been odd, and Charlotte is no exception. She's inherited Sherlock's volatility and some of his vices—and when Jamie and Charlotte end up at the same Connecticut boarding school, Charlotte makes it clear she's not looking for friends. But when a student they both have a history with dies under suspicious circumstances, ripped straight from the most terrifying of the Sherlock Holmes stories, Jamie can no longer afford to keep his distance. Danger is mounting and nowhere is safe—and the only people they can trust are each other." (Amazon.com) Does that not sound thrilling?! Let me know in the comments if this is going your TBR list too!
Slated by Teri Terry: I got this book when I was in one of those I'm going to buy a book moods. Dystopia has never been my favorite genre, but this book sounded like it could be an original twist, what with her memory being… well… gone. Synopsis: "Kyla's memory has been erased, her personality wiped blank, her memories lost forever. She's been slated. The government claims that she was a terrorist and they are giving her a second chance—if she plays by their rules. But scenes from the past haunt her as she tries to adjust to a new life, family, and school, leaving her unsettled. Who is she really? And if only criminals are meant to be slated, why are so many other teens disappearing? As she and her friend Ben seek answers, Kyla is torn between the need to know more and her instinct for self-preservation." (Amazon.com)
Blue Bloods by Melissa De La Cruz: There's not much for me to say about this. I just can't pass up the possibility of a well-written vampire novel. Synopsis: "Schuyler Van Alen is confused about what is happening to her. Her veins are starting to turn blue, and she's starting to crave raw meat. Soon, her world is thrust into an intricate maze of secret societies and bitter intrigue. Schuyler has never been a part of the trendy crowd at her prestigious New York private school. Now, all of a sudden, Jack Force, the most popular guy in school, is showing an interest in her. And when one of the popular girls is found dead, Schuyler and Jack are determined to get to the bottom of it. Schuyler wants to find out the secrets of the mysterious Blue Bloods. But is she putting herself in danger?" (Amazon.com)
August TBR (To-Be-Read)
Lord of Shadows by Cassandra Clare
Charlotte Holmes Series by Brittany Cavallaro
Carry On by Rainbow Rowell
The Immortal Life of Henrietta Lacks by Rebecca Skloot
What I Watched in July: An Overveiw
Despicable Me 3 – 
Some Actors and Actresses: Steve Carell, Trey Parker, Kristen Wiig
Age Group: Any age!!
My Rating: 2/4 Stars
Synopsis: "The mischievous Minions hope that Gru will return to a life of crime after the new boss of the Anti-Villain League fires him. Instead, Gru decides to remain retired and travel to Freedonia to meet his long-lost twin brother for the first time. The reunited siblings soon find themselves in an uneasy alliance to take down the elusive Balthazar Bratt, a former 1980s child star who seeks revenge against the world." (Google.com) 
There's nothing wrong with this movie. I'm starting out with that simple statement, which is completely true. Along with most of the world, I enjoyed the first two movies. This third one was, like the other two, packed with minions and humor and good times.
Companies just love to make sequels for movies that do well, which is exactly what happened here. There's not always anything wrong with that, in fact, there are plenty of sequel movies that are wonderful *cough* Pirates of the Caribbean *cough*. However, with this new installment of Gru's adventures, I think that the people behind the scenes were running out of ideas. The movie was certainly fun, but for me didn't hold as much charm or excitement as the previous ones, which is why I only gave it 2/4 stars.
Happy Reading!
Mayah XO
Copyright 2017