I was caught by the covers of these books when I was waltzing through the bookstore (not literally, but I like fun words). I didn't want to judge a book by its cover and I read the first synopsis, which really excited me because I love Alice in Wonderland themed/inspired stories. Some of my favorite movies are the Tim Burton ones (I dressed up as The Mad Hatter for Halloween). The book even mentioned that it was inspired by the Tim burton movies. I am so glad that I found this series. Quick fun fact: If you get the books in print, they have colorful text.
Series: The Splintered Series
Author: A. G. Howard
Age Group: Middle schoolers and up
My Rating: 4/4 stars
Synopsis: "Alyssa gardener hears the thoughts of plants and insects. She hides her delusions for now, but she knows her fate: she will end up like her mother, in an institution. Madness has run in her family ever since her great-great-great-grandmother, Alice Liddell, told Lewis Carroll her strange dreams, inspiring his classic Alice's Adventures in Wonderland. But perhaps she's not mad. And perhaps Carroll's stories aren't as whimsical as they first seem…"
When I first started reading this book, I was a little unsure of the characters. They were so very different from anything I had imagined, which grew on me throughout the book. I always love reading something that is different and unique. I was also a little disappointed that my favorite character, The Mad Hatter, wasn't very involved in the story, though we did meet him. In turn, I was surprised that the main Wonderland character we did get to know was Morpheus (The Blue Caterpillar). By the end of the book, I understood the author's choices and Morpheus was my favorite character. He is a multi-layered character and I look forward to learning more about his story. The plot of the book was what really amazed me. The author has one of the most amazing imaginations. She fit so many small adventures into this book that I can barely remember them all. I can't begin to imagine what the next book will be like. If you are looking for a wonderfully written, fast-paced new read, then this is it!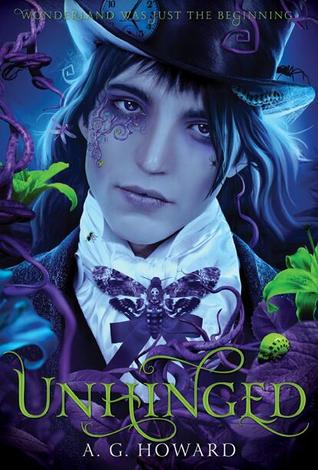 My Rating: 4/4 stars
Synopsis: "Alyssa Gardener went down the rabbit hole and was crowned a Queen in Wonderland. She saved the life of Jeb, the boy she loves, and defeated Queen Red. Now all she has to do is graduate from high school. But Morpheus, the seductive, manipulative netherling who haunts her dreams, won't let her leave her legacy behind that easily. When her two worlds collide and the intoxicating wildness of Wonderland starts to invade her "real" life, Alyssa must find a way to keep the balance between the two realms… or lose everything she loves."
This cover was by far my favorite, probably because of the intense color scheme. After the first book, I was ready to read this next one. Honestly, I feel like the action was sort of delayed. It really got exciting about half way through. Strangely, I wasn't very affected by this and read the book extremely fast. I feel like there were just enough little events to keep the book moving before it got to the big moments and the climax. This, by the way, was totally immense. I was stunned by the events. I didn't see any of it coming and once I had finished the book, I felt like I was the one going mad! I NEEDED that next book! The suspense was terrible (but I loved it). This book may not have had quite as much going on as the first one, partially due to the fact it wasn't taking place in Wonderland, but this had a good affect in the end and left me in shock, waiting to tear into the next novel.
My Rating: 4/4 stars
Synopsis: "After surviving a disastrous battle at prom, Alyssa has embraced her madness and gained perspective. She's determined to rescue her two worlds and the people and netherlings she loves. Even if it means challenging Queen Red to a final battle of wills and wiles . . . and even if the only way to Wonderland, now that the rabbit hole is closed, is through the looking-glass world—a parallel dimension filled with mutated and violent netherling outcasts.
In the final installment of the wildly popular Splintered trilogy, Alyssa and her dad journey into the heart of magic and mayhem in search of her mom and to set right all that's gone wrong. Together with Jeb and Morpheus, they must salvage Wonderland from the decay and destruction that has ensnared it. But if they succeed and come out alive, can everyone truly have their happily ever after?"
I was very tense at the beginning of this book. The suspense of the previous novel was overwhelming and I dove into this one, not only excited to read, but also having a need to know how the story would end (this is the last book). What life would Alyssa end up choosing? Would there even be a choice? Countless questions! The author answered all of them and more. This book continued the plot, picking it back up where the middle book had somewhat lapsed. The story raised the stakes higher. The author did a really great job of not only creating a twisty-turny plot, but also further developing the characters. Morpheus truly changed throughout the series and Alyssa discovered who she really was, not only in her un-humanness, but also figuring out what she wanted. I am so glad to have found this amazing series! Note: After writing this review I read another review for Ensared, which really opened my eyes to a new perspective about the way it ended. If you are interested you can see it here.
If you loved this series as much as I did then you might also enjoy the companion novel, Untamed.
Happy Reading!
Mayah XO
Copyright 2017