Title: This Monstrous Thing
Author: Mackenzie Lee
Rating: 5/5 Stars
Age Group: Middle school and above
Synopsis: "In an alternative fantasy world where some men are made from clockwork parts and carriages are steam powered, Alasdair Finch, a young mechanic, does the unthinkable after his brother dies: he uses clockwork pieces to bring Oliver back from the dead. But the resurrection does not go as planned, and Oliver returns more monster than man. Even worse, the novel Frankenstein is published and the townsfolk are determined to find the real-life doctor and his monster. With few places to turn for help, the dangers may ultimately bring the brothers together—or ruin them forever"(Amazon.com).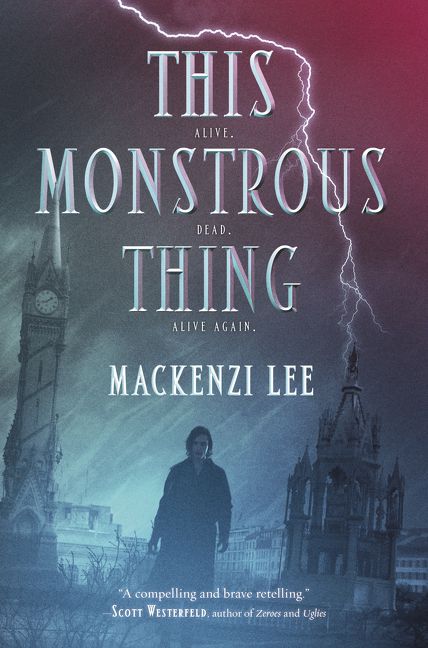 I cannot believe I haven't talked much about the amazing Mackenzie Lee yet on my blog. Her duology that began with A Gentleman's Guide to Vice and Virtue is actually one of the best things ever. She is an amazing writer, one of the funniest writers I have ever read, and also has such diversity in her novels. Long before she wrote that amazing duology, she actually published her debut novel and I FINALLY have gotten around to reading it. AHH!
I was sold before I even opened the first page with the idea of a Frankenstein retelling. Not only is this a great idea that hasn't been overdone (like some fairytale retellings–though I admit I have a soft spot for them anyway), but it had the added advantage of Mackenzie Lee's beautiful descriptions. Although this certainly isn't my usual genre, I knew I had to read it and I am so glad I did (I may blabber a bit in this review because I'm honestly struggling with how to explain why I liked it so much. Here goes nothing).
If I was sold by the premise (and the gorgeous, spooky cover) then boy was I sold by the first page! Within the first chapter I immediately sympathized with the main character, Alasdair, and even with his brother, Oliver. There are so many great things I could talk about when it comes to Mackenzie Lee's books, but despite everything, the thing that stands out the most to me and especially so in this book is her characters. Her characters are very likable, for sure, and Alasdair and his companions grew so much throughout the story. However, the reason why the characters appealed to me is simply that they seemed so very human (just go with as I attempt to explain).
I felt as though this book could've been nonfiction or that Alasdair could've come out the pages and spoken to me (okay a little cliche, but you get what I mean). Every choice he made made so much sense from his point of view and all of the relationships he formed were constantly evolving and just stayed complex for the whole journey. At the end of the book I think I could've described to someone else just how he felt about almost every character.
I just really loved how Mackenzie Lee creates and maintains her characters when she writes and loved being able to immerse myself in this spooky, dramatic, and also heart-warming-in-the-strangest-way story. I highly recommend you do the same if you liked her previous work, have an adoration of steampunk, or like generally dark and mysterious novels.
Happy reading!
Mayah XO
Copyright 2019